Photo album
Here are pictures of pekes that people have sent me, and of course, my own peke, Herbie. He's the one that shows up when you first load this page. JavaScript is required for this photo album to work properly. I'm working on a Non-JavaScript version.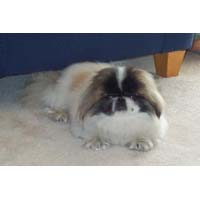 If you would like a picture of your peke included in the photo album, your photo must meet the following criteria:
It must be in JPEG or GIF format. Please do not send images in the Microsoft bitmap (BMP) format.
The file must be no larger than 150K in size.
The photo must be no larger than 200x200 pixels.
I'm sorry to impose limits, but the vast majority of the pictures I receive are way too big. In addition to causing problems with my email server, it also means I have to do a lot of work to get it suitable for the web page, which I haven't had a lot of time to do.
To reduce the filesize, use a graphics program like PhotoShop, PhotoDeluxe, PaintShop Pro, or GraphicConverter to scale the picture. If you're using a scanner, make sure the scanning resolution is set to 72 dpi before scanning.
Once your file is ready, just email it to me, and I'll do my best to get it online!